Fad, farce or game changer?
Is remote working turning the tables on recruitment and enabling agencies to cast a wider net to find the right talent without having to worry about location? Do agency leaders still see benefits in 'round the corner' recruits? We asked leaders and business owners to tell us about whether the impact of Covid-19's work-from-home culture is pushing them to consider the opportunities for far flung talent.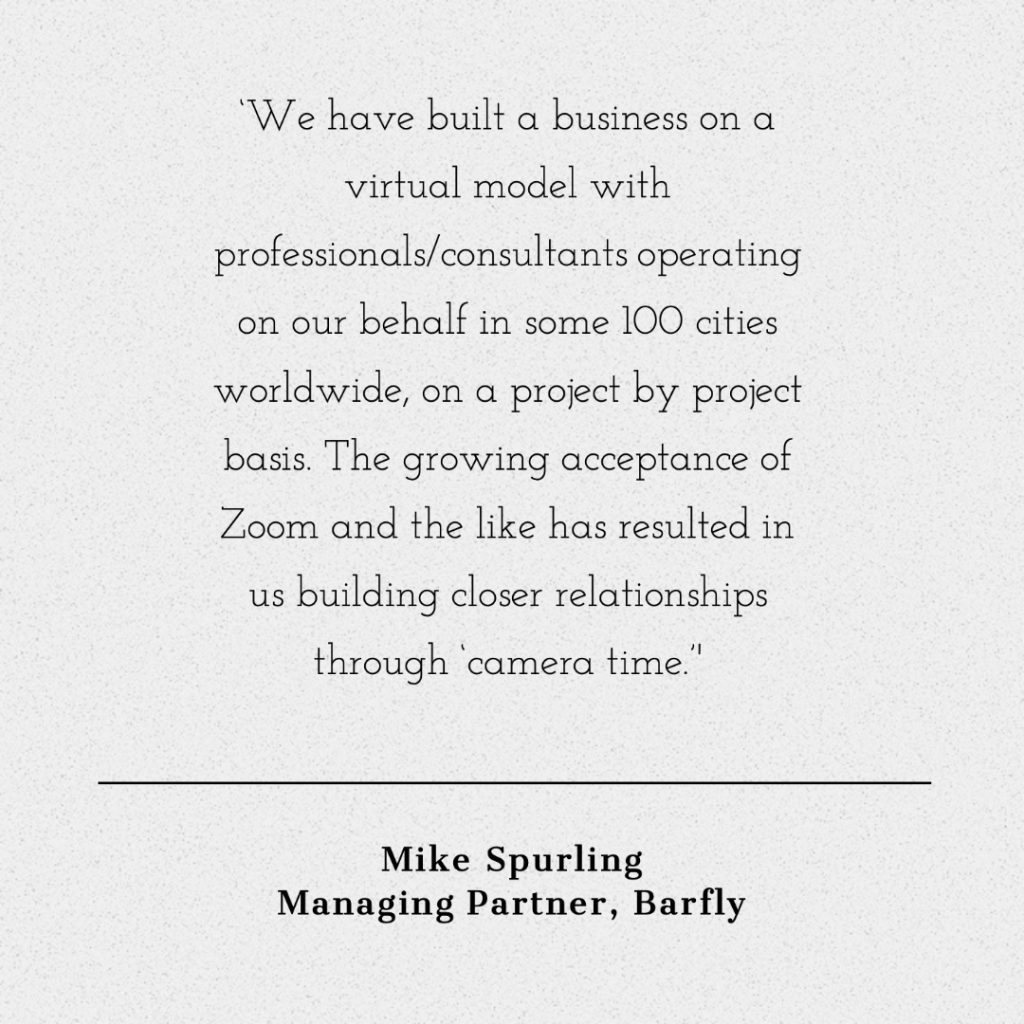 Mike Spurling
Managing Partner, Barfly
I was on a Zoom call to a client the other day with whom we have be working for some 5 years. She is based in Chicago. We reflected on the fact that apart from the LinkedIn profile picture, this was the first time that we had actually seen one another! It was a good reminder of how in a matter of months a whole new system of communication has taken form, and with it all the challenges & opportunities this presents.
We at Barfly have built a business on a virtual model with bar professional/consultants operating on our behalf in some 100 cities worldwide, on a project by project basis. The growing acceptance of Zoom and the like has resulted in us building closer relationships with these guys through 'camera time'. Camera time that allows for chit chat as well as the need to get the job done. And people are undoubtedly becoming more comfortable and more relaxed on camera which helps build the relationship.
I would never suggest that remote meetings and interviews would and should ever replace the face to face (particularly over that drink) but the sooner people actively embrace some of the benefits of remote working then they may one day realise that there could possibly be the best of both worlds moving forward.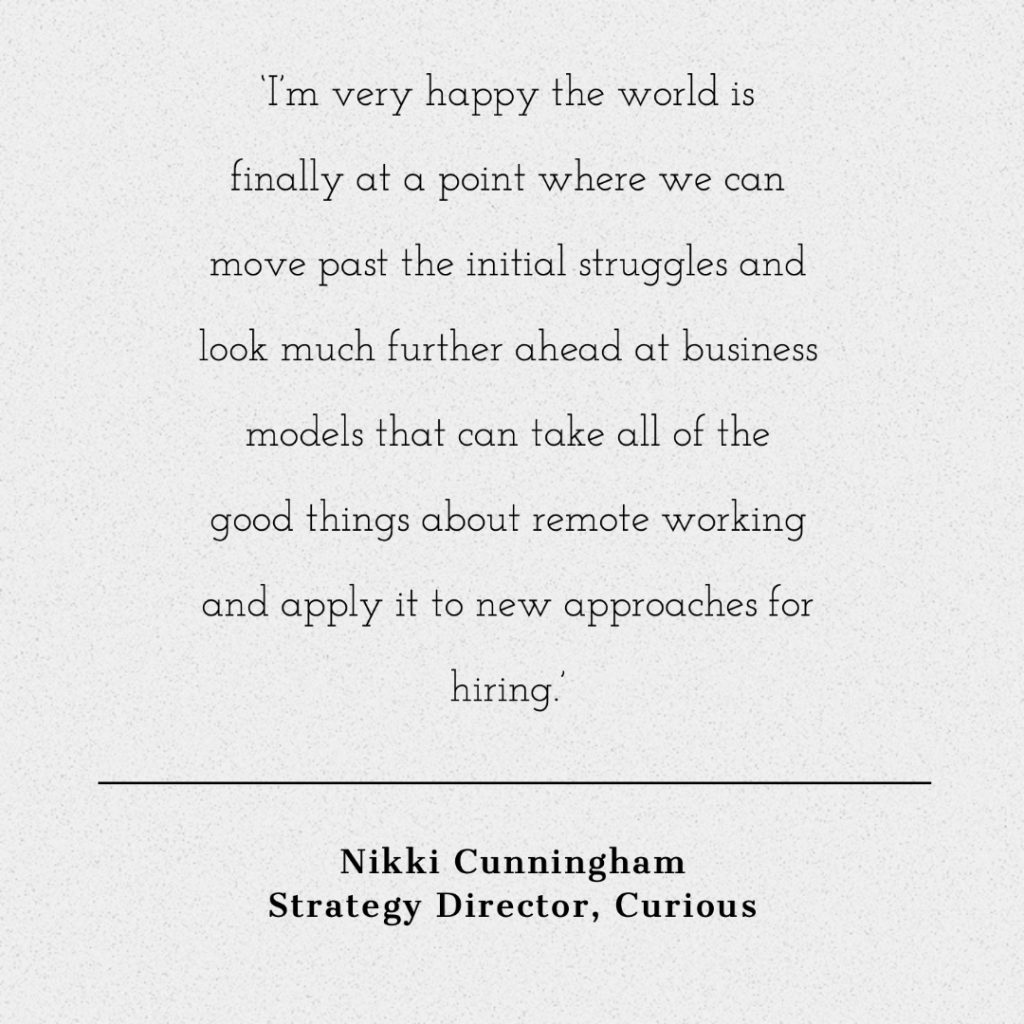 Nikki Cunningham
Strategy Director, Curious
I think as with most things now, everything is up for grabs and in need of some new rules. We've all had a heck of a lot to deal with this year and it's forced us to continually adjust and recalibrate. That said, I'm very happy the world is finally at a point where we can move past the initial struggles and look much further ahead at business models that can take all of the good things about remote working and apply it to new approaches for hiring.
As a design business, we deal in talent, so it's incredibly exciting to think that our search for the very best people can go beyond the M25 and onto a much grander scale. This month we are working on a digital project with a freelancer based in Barcelona – it makes no difference to our current setup and he's the best guy for the job, so that's a great example. That being said, we still see the streets of Soho as our stomping ground and nothing will replace the workshops and team catch ups that inspire great creative thinking. But the chance to grow our team in different time zones in the future? I don't see why not. We'd just need to arrange for monthly catch ups on the beach.
Nick Farrar
Owner/Director, Workbrands
Firstly, I wouldn't say that remote working is the new norm. This year has certainly changed the way we work and we need to address how we embrace these changes for the best. I still feel that having a space to collaborate and work as a team in the studio will play as big a part of successful agency life as remote working, if not bigger.
Regarding recruiting talent from further afield, in the past, we have employed someone from overseas for a couple of years with specific, technical skills. At the time there were frustrations – mainly around how we communicated (i.e. not in a structured or consistent manner) and time differences. I feel the experiences this year have given us a lot of insight in how to do this better and, more importantly, proven that we can run remote teams successfully with no detriment to clients or our team.
That said, we're very fortunate we live in a city that is buzzing with creativity and culture. For the foreseeable future, I feel we could, should and will continue to recruit from the Bristol area for our core team. It will inevitably help with the way we can work collaboratively and also with the culture of the agency. If we have a position that we really can't fill successfully locally, then we'll certainly be open to looking further afield.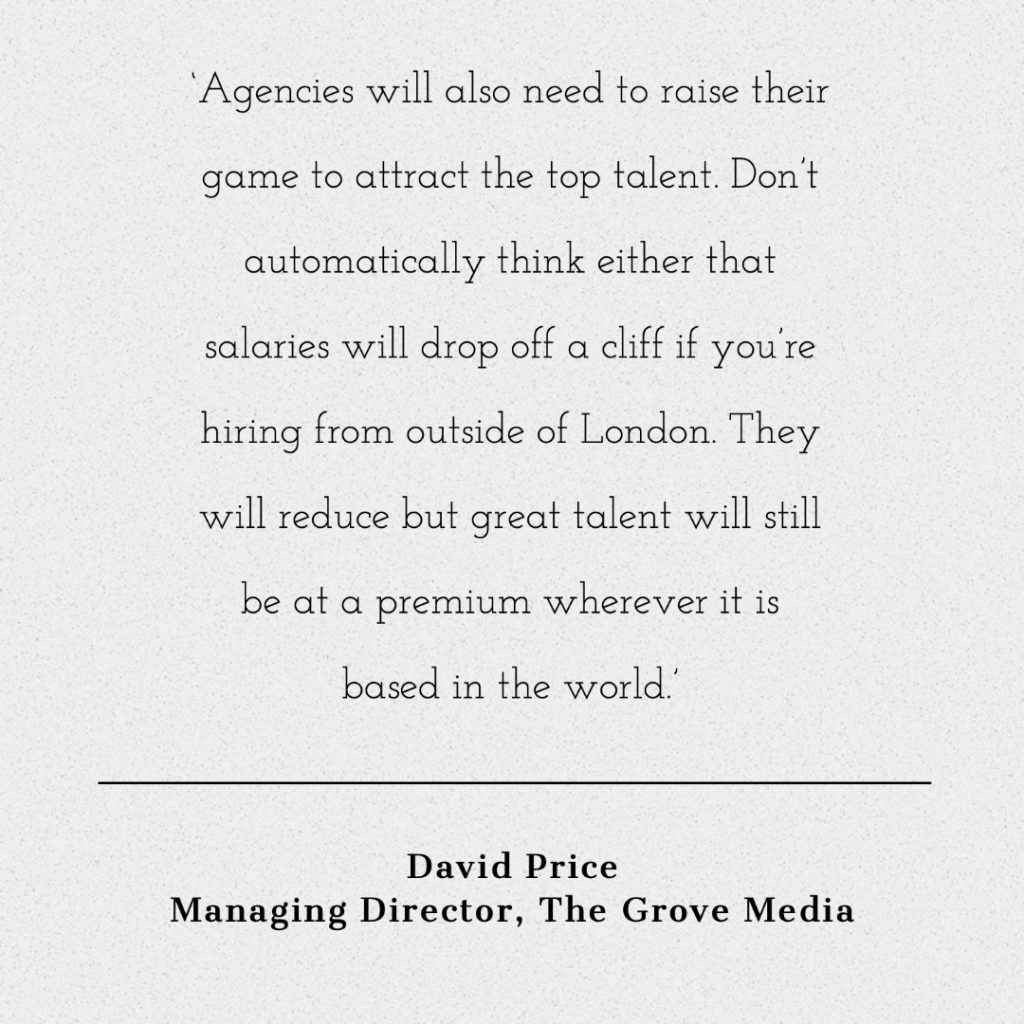 David Price
Managing Director, The Grove Media
We're no strangers to the concept of remote recruitment and working as we've successfully hired, pre Covid conditions, from Bulgaria and deepest darkest Dorset. Arguably, the volume and quality of available candidates will rise as interviewees will need to perform at higher levels when showcasing their skills and selling into perspective employers via a remote platform. Agencies will also need to raise their game to attract the top talent. Don't automatically think either that salaries will drop off a cliff if you're hiring from outside of  London. They will reduce but great talent will still be at a premium wherever it is based in the world.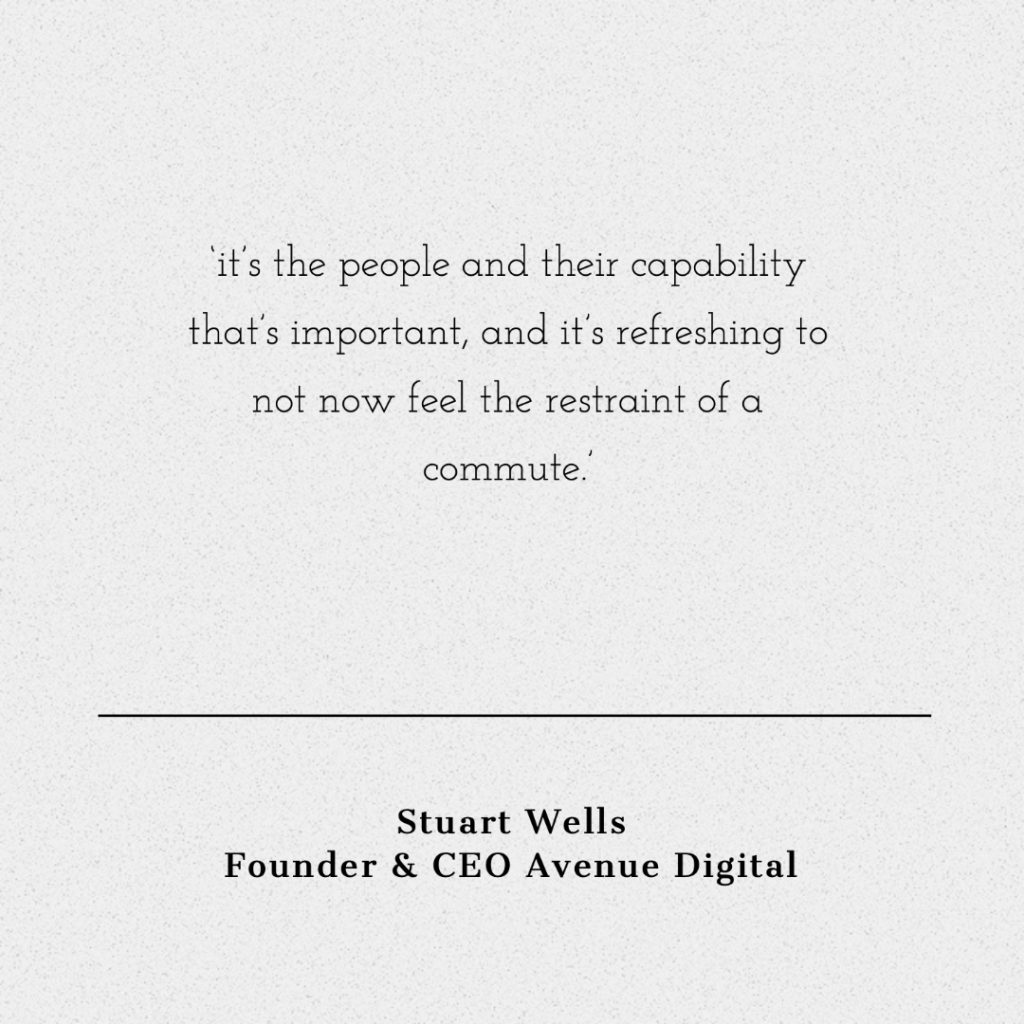 Stuart Wells
Founder & CEO Avenue Digital
There's no doubt, as a regional performance agency, we are seeing an overall benefit to remote working, especially as an in-tune team don't need to sit next to each other anymore to be effective. Located in the home counties of Sevenoaks Kent, our nearest big towns are Maidstone and Tunbridge Wells, and although these have historically always served us reasonably well for the level talent, they have never delivered any quantity. Moving forward with our recruit the 'best people from everywhere' approach, we can now look well beyond that catchment area and are open to welcoming new colleagues from all over the UK and further afield. After all, it's the people and their capability that's important, and it's refreshing to not now feel the restraint of a commute.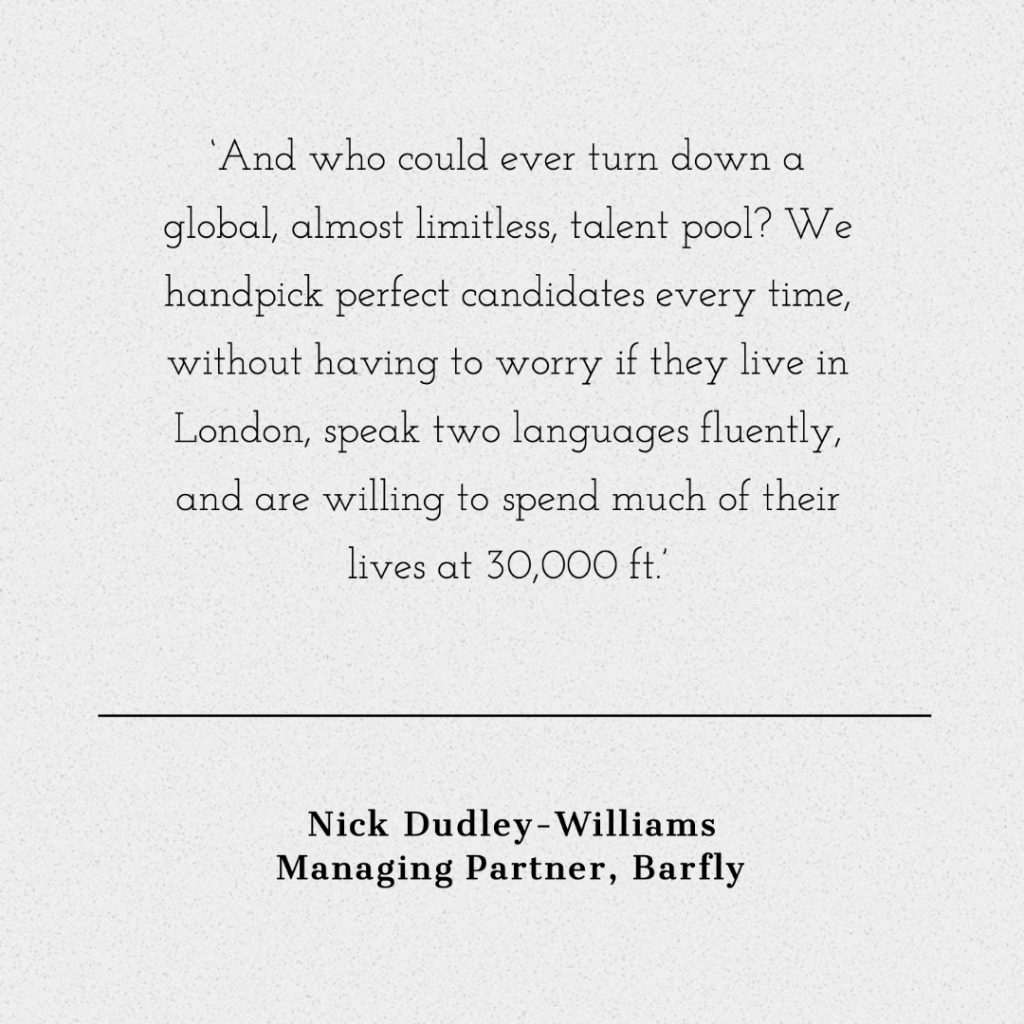 Nick Dudley-Williams
Managing Partner, Barfly
In 2014, Barfly's doors swung open, providing strategic consultancy for the global drinks industry. We spend a lot of time talking with bartenders in their bars (I know, it's tough). But it meant that, from the outset, an office was never really a viable option. Why would we saddle ourselves with that debt if we were rarely there?
Six years on and we're working in over 100 cities around the world, delivering multinational projects for the leading lights in the industry, and we still don't have any physical space. Put simply, Barfly wouldn't be here without remote working. It's enabled us to build a thriving global network of local experts, situated in every corner of the globe, all working from the comfort of their home offices, and all living and breathing their local drinks scene 24/7. The perfect cocktail.
And who could ever turn down a global, almost limitless, talent pool? We handpick perfect candidates every time, without having to worry if they live in London, speak two languages fluently, and are willing to spend much of their lives at 30,000 ft. Today, we have hundreds of 'Barfly Anchors' around the world and, although we've met only a fraction of them, they all feel part of the team.
So yes, remote working is different. Yes, you have to work harder at culture and learn to love Zoom. And yes, it takes time to bed in (maybe two years for us). But the commercial benefits for agency leaders who embrace remote working, forced or otherwise, are incredibly exciting. Beyond Covid, we've been able to adapt quicker, launch new offerings faster, open up new markets and therefore scale at pace. And all with lower costs.
I do sense mentality plays a role. We chose remote working as the Barfly model six years ago, and perhaps that positive mindset has meant some of the emotional and cultural baggage has been easier to shed. We've never once seen remote working as an issue, only an asset. I genuinely can't imagine doing it any other way.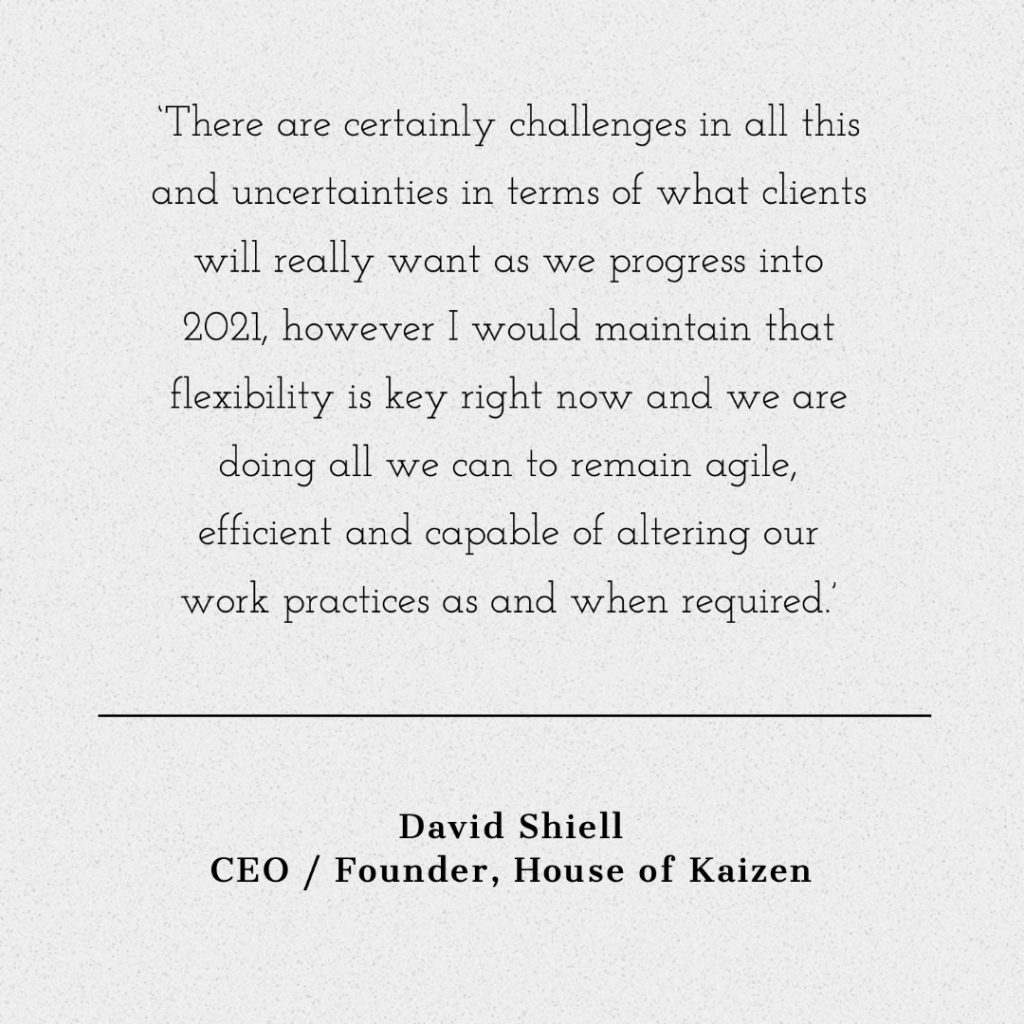 David Shiell
CEO / Founder, House of Kaizen
We made our first remote recruitment in Mar/April. Our Senior Research Manager was interviewed and onboarded entirely remotely. In fact, due to his wife being in a high-risk category, I am still yet to physically meet him, yet he has contributed to many pieces of client work, prospect proposals/pitches, webinars and internal team training sessions. All virtually.
Whilst we are yet to recruit someone outside the UK, we are actively building out our processes and policies in preparation for this, including the legal and financial intricacies of such an act. I see it as an enormous opportunity to not only widen our talent pool and find the right people for the role and not just what we have on our doorstep here in London. One related change we have made since March is allowing one of our Project Managers from Lithuania to return home and work full time remotely. As if her gratitude and happiness weren't enough, her efficiency and productivity have gone through the roof. She now represents a doorway for us to further build out our studio and developer resource out of Lithuania. Having a 'local' working from there will make it far easier! In addition, over summer we staff working from locations such as France, Spain, Italy and South West of England.
There are certainly challenges in all this and uncertainties in terms of what clients will really want as we progress into 2021, however I would maintain that flexibility is key right now and we are doing all we can to remain agile, efficient and capable of altering our work practices as and when required.
Obviously different disciplines within the agency world will also have different needs when it comes to physically coming together. At the end of the day, we are all humans, and we all crave interaction at some level!
—
So what do you think? Is your business planning on embracing far flung recruitment? Have you been utilising remote working talent for a while now? Is sticking with a local workforce still important to you as far as supporting your community? Has lockdown and Covid challenged you to embrace a global workforce?
I would really enjoy hearing your thoughts, so please leave me a comment below if you feel inclined.
Thank you so much for all the contributions – there are some meaty bones to chew on and some fantastic insights into some excellent agency minds. Please email me andy@etc.co.uk if you would like to be included in our next collaborative article for agency leaders and thinkers – I would love the have you involved.
Make sure you sign up to my agency newsletter, Rambling On, for insight, opinions and useful articles and downloads.